Clancy is a Highland Lakes Fishing Guide specializing
in a Striper and Catfish Fishing Guide Service
on Lake Buchanan and Inks Lake in Central Texas

Clancy Terrill
Phone: 512-633-6742- cell
Email: centraltexasfishing@gmail.com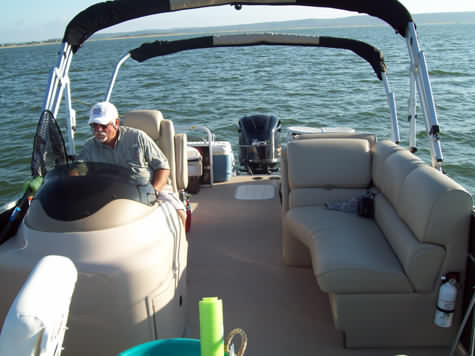 Clancy's Highland Lakes Fishing Guide Service specializes in
Stripers, Trophy Catfish and White Bass on Lake Buchanan
and Inks Lake, near Austin and San Antonio in Central Texas.


Clancy Terrill - Fishing Guide
I'm Clancy Terrill and I'll be your fishing guide! I have a lifetime of experience because my dad began my fishing experience at a very early age.

I enjoy children because it's great to see them catch their first or their biggest fish. They enjoy it so much that the experience will stay with them forever. I know it did with me!
I'm a fireman and a retired 30 year paramedic, and have a family history of Fire, Police and EMS that goes way back. You will be in good hands with me as your Highland Lakes fishing guide out on the boat.

I was featured on the PBS show, Texas Parks & Wildlife, and in the October, 2007 issue of Texas Parks and Wildlife Magazine. It was a several page article on me and catfishing on Lake Buchanan.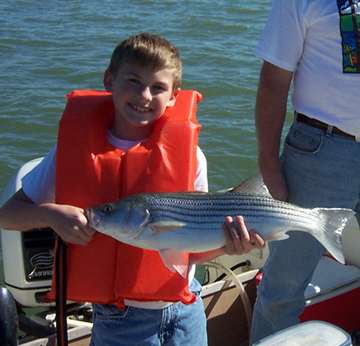 Clancy can help you catch great Striped Bass
I have over years of experience fishing here on the Highland Lakes in Central Texas and have boated numerous Stripers over 30-lbs and even bigger Catfish! I really enjoy being a Highland Lakes Fishing Guide.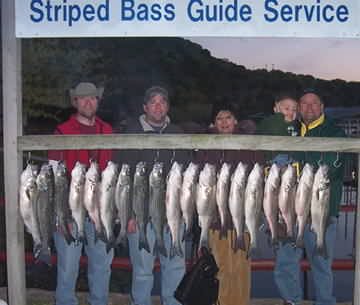 My Highland Lakes fishing guide service specializes in Striped Bass, Trophy Catfish and White Bass on Lake Buchanan and Inks Lake in the Highland Lakes of Central Texas just 60 minutes northwest of Austin and 90 minutes north of San Antonio.
Record Catch for Lake Buchanan

This 65 lbs. 2 oz. Blue Catfish was caught by a 12 year old girl while fishing with Clancy on Saturday, March 08, 2008 at 7pm. It took her 15 minutes to get the fish in the boat.

This was the 4th catfish that they caught in a week's time that was over 30 pounds...always on rod and reel.

Record Catch for Lake Buchanan

This 20.08 lb Flathead Catfish (Yellow Cat) set the Official Lake Buchanan Record. It was caught on my boat by Scott Piorun in March of 2009.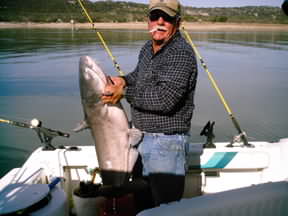 Catfish - 65 lbs. - Caught on Dec. 6, 2006

48 lb Blue Catfish Caught on December 4, 2010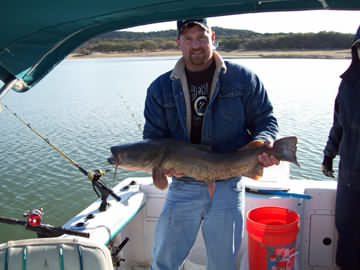 20.8 lb Flathead caught on
Lake Buchanan in March, 2009
A Great Catch on Lake Buchanan

This 17.2 lb Yellow Catfish was caught by Bobby Love while fishing with Clancy on Lake Buchanan 0n March 19, 2008.

It was caught using live bait on a rod and reel. The fish put up a good fight for 7 or 8 minutes before it was pulled into the boat.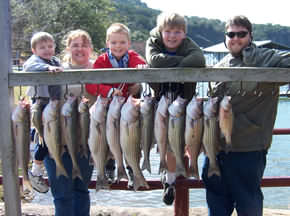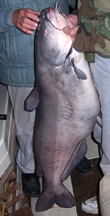 For the inexperienced I will be assisting you with baiting, techniques and any other information that you need. For experienced fishermen I will go through my basic introduction but leave as much to you as you would like. I don't troll with downriggers. I use native live bait (shad) caught fresh everyday.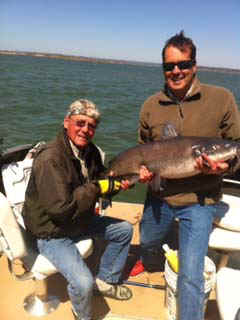 Caught in March, 2015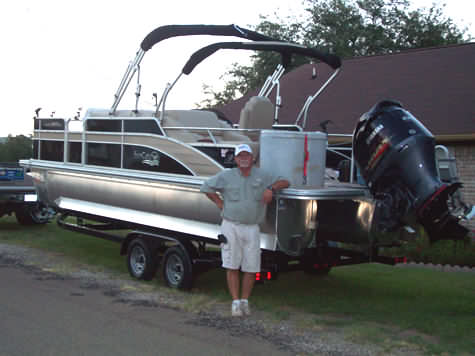 The boat I use with my fishing guide service is a pontoon boat with a 225 hp outboard motor. It's a great fishing boat. It has plenty of room and is easy to get around in for fishing. Fishermen love this new boat.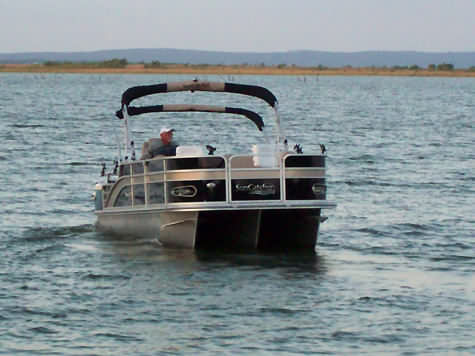 I have all the latest electronics to find the fish. I furnish all the fishing equipment and bait, along with the filleting of the catch after the trip.

To see a typical day fishing with Clancy - Click Here.
.
Clancy's Fishing Guide Service
is the home of the famous
"Fish and Chips Special"

For you true outdoor enthusiasts, we offer the best of both worlds....
Golf and Fishing combined!
Book a "Fish and Chips" package and here is what you'll get:

- A guided fishing trip combined with 18 holes of golf in any way that you want to arrange it.

- You can book a half day fishing trip and golf either in the morning or afternoon, and fish the other part of the day

- You can book a full day fishing trip and play golf the next day, a GREAT weekend trip for families, corporate events, or just to get away from either of those with your buddies.

- You just tell us that you want the package and we will take care of the rest - setting the tee time, making sure you get directions, anything you need. Just be sure to bring your clubs and appropriate attire.

- Clancy will be your guide for the fishing trip. He is not part of the golfing package other than making arrangements, unless of course you want to ask him to join you. Naturally you don't pay additional for him and you do get someone who knows all the courses well. Just how badly do you want to be beaten ?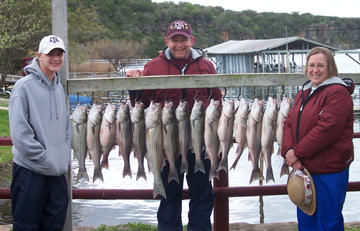 Fishing Guide Information:

Depending on the lakes, the type of fish we go after varies. For example Lake Buchanan provides better fishing for Stripers, White Bass, and Catfish (BIG catfish!) Let me know what you're primarily interested in catching and we'll set up the trip to suit your taste!

You WILL need to provide a valid Texas fishing license (except for anyone under the age of 17, or a Texas resident born prior to September 1, 1930). Other than that I provide all the other fishing gear that you will need.

Be sure to bring your own food and drinks. Additionally, dress appropriately for the weather and time of year. Don't forget sunscreen.

If scheduling a trip more than a week in advance, a deposit may be required. Paying options: Prepay - Cash or Checks; or Cash or Check at the dock. We accept credit cards and PayPal payments via the Internet below.

When you schedule your fishing trip you will be given the information necessary on where and when to meet Clancy (it is dependent on the lake). If you want any additional information, let us know and we'll send you some information.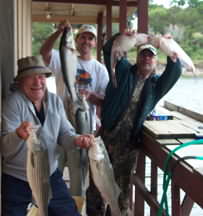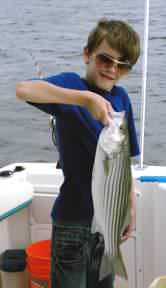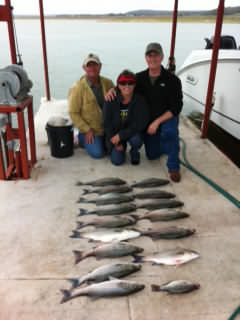 Entertaining clients or friends?
Can't think of a good gift idea for that person who has everything?
Want to thank someone or reward an employee?
Send them on a guided fishing trip they will never forget !!!
Gift Certificates are Available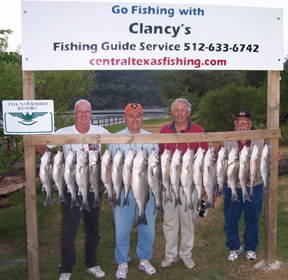 To See More Pictures - Click Here
Rates for Clancy's
Fishing Guide Service
Number
of People
4-hour
8-hour
1-2 People
$400
$600
3-4 People
$500
$700
Each additional person
(up to 6 total)
$100
$175
Pay with Charge Cards and PayPal Below:

Feel free to contact me for information or to schedule your trip.

Clancy's Fishing Guide Service
Clancy Terrill
Phone: 512-633-6742- cell
Email: centraltexasfishing@gmail.com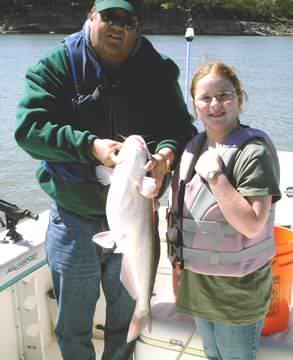 Thunderbird Resort

For our out of town guests, we can make
accommodation arrangements for you.